Posted April 30, 2020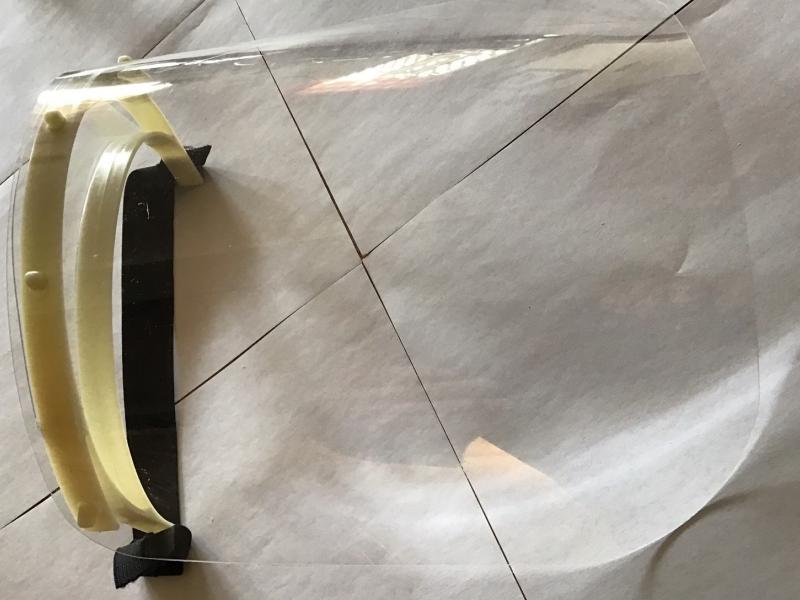 Rensselaer faculty and staff donate hundreds of face shields to local health-care workers
From a variety of locations in the Capital Region, and throughout the country, Rensselaer Polytechnic Institute faculty, students, and staff are pressing their knowledge and machinery to work making personal protective equipment for those on the front lines of the pandemic.
"We're excited to work together, at Rensselaer, at home, and with our industrial partners, to create ingenious solutions," said Robert Hull, acting vice president for research at Rensselaer. "Our work is grounded in fairly simple engineering principles, but it's going to save lives."
Specifically, Hull has been working with a group of manufacturing faculty and staff who — in collaboration with Industrial Tool & Die Company, a private business based in Troy — are using campus facilities to manufacture hundreds of face shields for Albany Medical Center.
Last week, they delivered more than 370 face shields to Albany Med. This first shipment of face shields, based on an open source design from Prusa3D, was produced using six 3D printers normally housed in different areas of the Rensselaer campus, as well as three from Industrial Tool & Die Company. Faculty and staff distributed the on-campus 3D printers among their homes and offices to run and maintain them while adhering to social distancing protocols.
The group is now organizing a larger manufacturing effort with plastic injection molding and laser cutting machines ordinarily used to teach students the elements of manufacturing. Where a 3D printer takes an average of about one and a half hours to produce a single face shield, the plastic injection molding tools at the Manufacturing Innovation Learning Laboratory (MILL) at Rensselaer will produce at least 50 face shields per hour. They have also developed a new design that addresses a vulnerability in 3D printed designs, offering more protection for health-care workers.
"This is an opportunity to put into practice what we teach our students: how to go from design to reality to meet the needs of society," said Sam Chiappone, director of the MILL. "We all knew the power of the resources that we had available to us, and how we could help, and we're proud to be able to move forward."
Together, the team completed in one week a process that would ordinarily occupy a matter of months and cost several thousands of dollars. To design and computer numerical control machine a mold for the plastic injection molding machines, Chiappone collaborated with Jim Schatz, the supervisor of the machine shop run by the Division of the Chief Information Officer at Rensselaer, and Paul Cacciotti, president of Industrial Tool & Die Company.
"We've worked with RPI for many years and always enjoy the process," Cacciotti said. "Being a part of this project was a natural way for our company to make a contribution to a truly valuable effort."
Chiappone and Hull also credited Larry Oligny for designing and Joe Sicko for machining the mold, as well as John Szczesniak and Scott Yerbury in the School of Engineering for the remote assembly of the components, and Steve Rock from the Rensselaer Manufacturing Innovation Center for assistance with the 3D printing.
While this group of faculty and staff have been hard at work on and around campus, a separate off-campus collaboration organized by members of The Forge, a student-managed maker-space at Rensselaer, has been providing equipment to St. Peter's Health Partners, as well as through a network organized by industrial 3D printer company Stratasys.
"We're proud of what the students are doing remotely, on their own, and separate from our on-campus efforts," Chiappone said.
In mid-April, The Forge launched the Off-Campus-Resources Initiative, open to any Rensselaer-affiliated individuals. Within days, they had accumulated a volunteer workforce of 18 current students and alumni.
"In the 3D printing community, as soon as we started hearing that there's a shortage, we said to ourselves, 'We can make that,'" said Russell Roberts, the student leader of The Forge. "The limitation wasn't a matter of who wanted to help, it was more a matter of who had 3D printers off campus."
According to Roberts, they have been running about 25 printers in homes around the country on a face shield design created by 3DVerkstan. Roberts estimated that The Forge group has supplied about 300 face shields and ear savers — small devices that relieve the pressure masks put on ears — to St. Peter's and other hospitals along the East Coast.
At his home in California, Roberts is running his own 3D printer and three he borrowed from his high school to produce face shield frames and ear savers through a network run by West Coast-based Stratasys. He mails about 120 face shield frames each week to the company, and they assemble and distribute them. He is also producing a custom design he created that will fit over the magnifying loupes dentists wear for exams.
Students are not the only ones independently working from home.
For example, Eric Ameres, a senior lecturer of cognitive science and a member of the Games and Simulation Arts and Sciences program at Rensselaer, has been running his three 3D printers at his home near campus to make face shields and ear savers. He distributes them through a network of friends who are health-care professionals in Schenectady, Connecticut, and Long Island.
"You immediately start looking around and saying, 'Okay, I have this capacity. How can I utilize it to best help out?'" Ameres said. "They're all going out there as quick as we can get them out. We want to let them know that somebody out there cares about their safety."