Posted May 1, 2018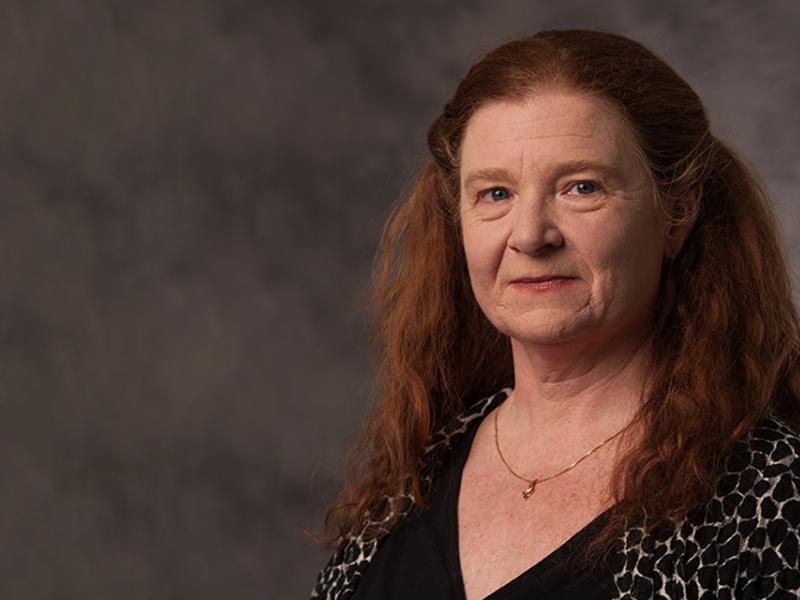 Deborah McGuinness to develop digital knowledge infrastructure
Rensselaer Polytechnic Institute Tetherless World Professor of Computer Science Deborah McGuinness has received a three-year, $1.77 million award to develop digital knowledge infrastructure as part of the Dynamic Spectrum Access Policy Development project, initiated as part of a reallocation of sections of the federally controlled radio frequency spectrum.
"When segments of broadcast airwaves are reallocated, new users can't simply broadcast at will. There are policies that govern the area over which they may broadcast, the duration of the broadcast, and the volume of information transmitted, considerations that become particularly complex as the variety and volume of broadcast requests increase," said McGuinness, an expert in digital knowledge representation and reasoning languages. "Our work makes it possible to consistently represent and reason with those policies."
Earlier this year, the project agreement holder, LGS Innovations, a member of the National Spectrum Consortium, announced a three-year $14.5 million award for the Dynamic Spectrum Access Policy Development project. The project, working closely with the Airforce Research Laboratory (AFRL) in Rome, New York, as its government technical representative, will develop spectrum management policies for Dynamic Spectrum Access (DSA) radio networks.
Rensselaer will work with LGS Innovations and its partners on the project. As the agreement holder for the DSA Policy Development project, LGS Innovations is responsible for modeling, designing, developing, and running test beds for rule validation, verification, and integration of the entire system.
LGS innovations also is the lead for the RF environmental awareness sub-system that provides real-time RF environmental awareness to dynamically adjust spectrum allocation policies and achieve improvements in radio networks.
McGuinness is a leading authority on the semantic web and has been working in knowledge representation and reasoning environments for over 30 years. Her primary research thrusts include work on semantically enabled schema and data integration, ontologies, open linked data, data science, and foundational knowledge representation and reasoning to support a wide range of informatics and analysis efforts. Most recently, McGuinness is best known for her leadership role in broad interdisciplinary semantically enabled data resources, and for her foundational work on explanation, trust, and applications of semantic web technology, particularly for scientific applications.
"I am interested in making smart systems that help people and machines function better," said McGuinness. "My slant on this work is to research, develop, and use semantic technologies that allow people and machines to represent, reason with, visualize, and explain information in ways that support understanding and reusability."
McGuinness is also widely known for her leading role in the development of the W3C Recommended Web Ontology Language (OWL), her work on earlier description logic languages and environments, including the CLASSIC knowledge representation system, and more recently, her work on provenance languages and environments, including InferenceWeb, PML, and PROV. She has built and deployed numerous ontology environments and ontology-enhanced applications, including some that have been in continuous use for over a decade at AT&T and Lucent, and two that have won deployment awards for variation reduction on plant floors and interdisciplinary virtual observatories. Recent application thrusts include health informatics and smart environmental monitoring. 
McGuinness' research fulfills The New Polytechnic, an emerging paradigm for higher education which recognizes that global challenges and opportunities are so great they cannot be adequately addressed by even the most talented person working alone. Rensselaer serves as a crossroads for collaboration — working with partners across disciplines, sectors, and geographic regions — to address complex global challenges, using the most advanced tools and technologies, many of which are developed at Rensselaer. Research at Rensselaer addresses some of the world's most pressing technological challenges — from energy security and sustainable development to biotechnology and human health. The New Polytechnic is transformative in the global impact of research, in its innovative pedagogy, and in the lives of students at Rensselaer.
About Rensselaer Polytechnic Institute
Rensselaer Polytechnic Institute, founded in 1824, is America's first technological research university. For nearly 200 years, Rensselaer has been defining the scientific and technological advances of our world. Rensselaer faculty and alumni represent 86 members of the National Academy of Engineering, 17 members of the National Academy of Sciences, 25 members of the American Academy of Arts and Sciences, 8 members of the National Academy of Medicine, 8 members of the National Academy of Inventors, and 5 members of the National Inventors Hall of Fame, as well as 6 National Medal of Technology winners, 5 National Medal of Science winners, and a Nobel Prize winner in Physics. With 7,000 students and nearly 100,000 living alumni, Rensselaer is addressing the global challenges facing the 21st century—to change lives, to advance society, and to change the world. To learn more, go to www.rpi.edu.