Posted September 21, 2016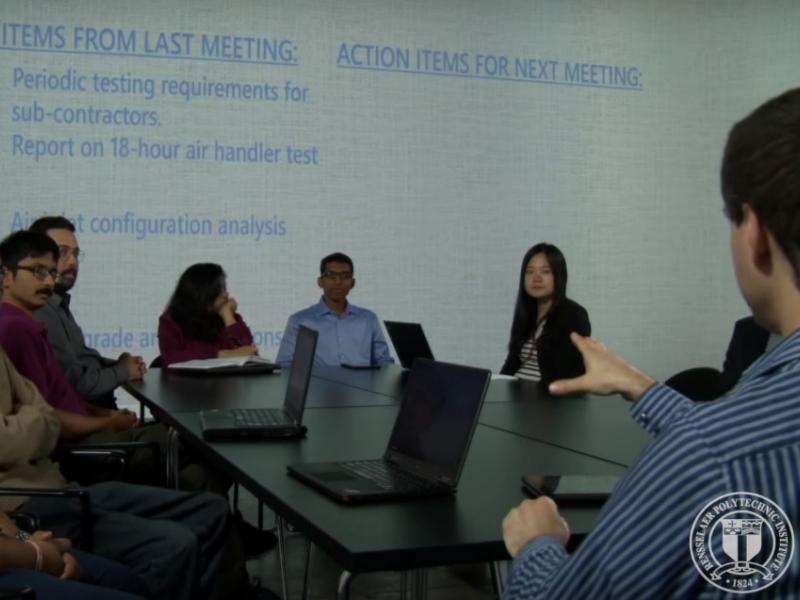 Six universities including Rensselaer Polytechnic Institute have joined with IBM Research to launch the Cognitive Horizons Network, a network committed to accelerating the development of core technologies needed to advance the promise of cognitive computing.
The Cognitive Horizons Network – which includes Rensselaer, Massachusetts Institute of Technology, the University of Illinois at Urbana-Champaign, the University of Maryland, Baltimore County, the University of Michigan, and the University of Montreal – was announced as part of the fifth annual IBM Research Cognitive Colloquium held September 18-20 at IBM's T.J Watson Research Center in Yorktown Heights. The colloquium brings together academics, researchers, and influencers in the field of cognitive computing for three days of lectures, panel discussions, breakout sessions, and informal interactions aimed at developing a comprehensive and shared vision of the research agenda.
In one aspect of its work with IBM Research, Rensselaer is working to build cognitive and immersive environments that explore and advance natural human-computer collaborative problem-solving and develop new analytic capabilities with the goal of improving how people and machines can work together to make complex decisions. The Cognitive and Immersive Systems Lab (CISL) at Rensselaer is creating a "situations room" that can be customized for many kinds of decision-making environments where collaboration between people and machines can lead to better outcomes, including board rooms, classrooms, diagnosis rooms, design studios, and more.
"Researchers are generating massive amounts of information, but in the absence of more advanced computational methods and human-computer interactions, we're facing a bottleneck in extracting knowledge from that data," said Jonathan S. Dordick, vice president for research and the Howard P. Isermann '42 professor of chemical and biological engineering. "Through our investments in the Curtis R. Priem Experimental and Performing Arts Center (EMPAC), which is uniquely suited to integrate digital technology with human experience, and our IBM partnership on the CISL, we are dissolving the boundary between humans and computers, to enable each side to do what it does best and to augment human capabilities."
At the colloquium, researchers from Rensselaer presented on several projects under development across campus including the CISL "situations room," and a healthcare initiative through the Institute for Data Exploration and Applications (IDEA) headed by Jim Hendler.
"The new partnership builds on our work in the Watson project, where our organizations have been working together to push the state of the art in bringing humans and cognitive computers into closer interaction in areas such as finance, pedagogy, and advanced healthcare analytics," said Hendler, in an IBM Research blog post about the network. "We are excited by the synergies that the Cognitive Horizons Network will bring through increased collaboration with other world-class university groups and we are proud to be partners in developing the new generation of complete cognitive computing systems."
Cognitive computing initiatives at Rensselaer fulfill the vision of The New Polytechnic, an emerging paradigm for higher education which recognizes that global challenges and opportunities are so great they cannot be adequately addressed by even the most talented person working alone. Rensselaer serves as a crossroads for collaboration—working with partners across disciplines, sectors, and geographic regions—to address complex global challenges, using the most advanced tools and technologies, many of which are developed at Rensselaer. Research at Rensselaer addresses some of the world's most pressing technological challenges—from energy security and sustainable development to biotechnology and human health. The New Polytechnic is transformative in the global impact of research, in its innovative pedagogy, and in the lives of students at Rensselaer.
Presenters from Rensselaer included:
Jonas Braasch, associate Professor of architecture, and director of the Rensselaer Center for Cognition, Communication, and Culture (CCC)
Selmer Bringsjord, professor of cognitive science, professor of computer science, and director of the Rensselaer Artificial Intelligence and Reasoning (RAIR) Lab
Ben Chang, associate professor of arts, director Games and Simulation Arts and Sciences (GSAS)
James Hendler, Tetherless World Professor of Computer, Web, and Cognitive Sciences, and director of the Institute for Data Exploration and Applications (IDEA)
John Kolb, vice president for information services and technology and chief information officer
Rich Radke, professor of electrical, computer, and systems engineering
Mei Si, assistant professor of cognitive science
Hui Su, interim director, Cognitive and Immersive Systems Lab (CISL), IBM Research
About Rensselaer Polytechnic Institute
Rensselaer Polytechnic Institute, founded in 1824, is America's first technological research university. The university offers bachelor's, master's, and doctoral degrees in engineering; the sciences; information technology and web sciences; architecture; management; and the arts, humanities, and social sciences. Rensselaer faculty advance research in a wide range of fields, with an emphasis on biotechnology, nanotechnology, computational science and engineering, data science, and the media arts and technology. The Institute has an established record of success in the transfer of technology from the laboratory to the marketplace, fulfilling its founding mission of applying science "to the common purposes of life." For more information, please visit http://www.rpi.edu.