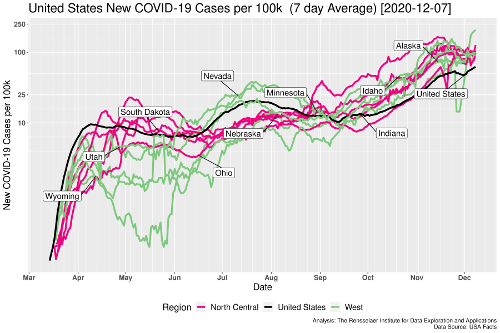 Rensselaer data analytics students, researchers and colleagues are analyzing the data emerging from the 2019-2020 COVID-19 outbreak/pandemic. In early March 2020 The Rensselaer IDEA started gathering a set of resources on exploring and modelling current global data. This list will be updated periodically as new resources become available. Many thanks to our friends and colleagues near and for for contributing to this list!
SEE ALSO: The White House Office of Science and Technology Policy has formed The COVID-19 High Performance Computing (HPC) Consortium, a unique private-public effort involving IBM, RPI and others from federal government, industry, and academia to volunteer free compute time and resources on their world class machines. See https://bit.ly/2y51Hac (info) and https://bit.ly/2UBa5G9 (CfP form)
NEW: COVID-19 Projects from The Rensselaer IDEA:

COVIDMINDER (From the creators of the award-winning MORTALITYMINDER)
SOCIAL MEDIA ANALYSIS: "Clustering COVID-19 Discourse on Twitter with Natural Language Processing" (The Rensselaer IDEA)
MACHINE LEARNING: Malik Magdon-Ismail, "Machine Learning the Phenomenology of COVID-19 From Early Infection Dynamics" (pre-print) https://arxiv.org/pdf/2003.07602.pdf

FEATURED DATASETS AND RESOURCES: 
INSPIRATION: see these real-time VISUALIZATIONS and other data viewers:
BACKGROUND: see JHU's COVID-19 Resource Center: https://coronavirus.jhu.edu/
TUTORIALS on DATA ANALYTICS CODING (esp. in R) by Tim Churches and others:
R RESOURCES for COVID-19 Research
TUTORIALS on COVID-19 and Knowlege Graphs
Interactive SIMULATIONS with code:
COVID-19 DATASETS:
SEMANTIC WEB, LINKED DATA and KNOWLEDGE GRAPH resources:
Data on STATE GOVERNMENT ACTIONS:
CHALLENGES and Invitations:
This list is brought to you by The Rensselaer IDEA and RPIrates: The RPI R Users' Group 
Please email John Erickson erickj4@rpi.edu with suggestions or additions!