A tool for generating actionable information on how to reopen schools, universities, and workplaces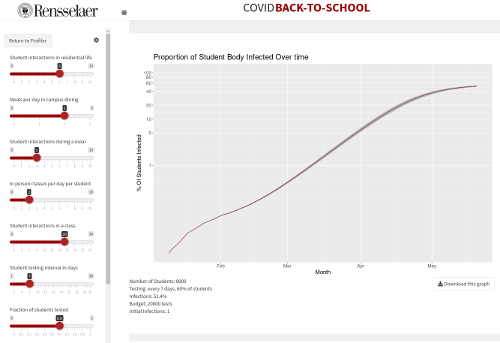 To control spread of COVID, we must implement social distancing measures. Rather than arbitrarily implementing measures against COVID spread, we have built a tool that gives you a quantitative approach to controlling spread. COVID Back-to-School is a tool for generating actionable information on how to reopen schools (elementary, secondary, boarding), universities, workplaces, etc.
There are three basic steps to using COVID Back-to-School:
Tell us about your school, pre-COVID.
Tell us about where your population is coming from upon reopening. To do this you upload a CSV file indicating how many people come from each county in the US, and for international entities, each country in the world.
"Tune" the social distancing knobs until you achieve the outcome you desire.
For different settings of the social distancing "knobs,: you can find out how the infection will spread in your school/university/organization. You can tune the knobs until the spread is a tolerable level for you. The settings for these knobs will then tell you what social distancing protocols you need in place to accomplish that level of tolerable spread.
COVID Back-to-School was conceived of and prototyped by Malik Magdon-Ismail. Production development of the R Shiny-based web app was directed by Kristin P. Bennett and John S. Erickson.
The web implementation of COVID Back-to-School is by students and staff of The Rensselaer Institute for Data Exploration and Applications at Rensselaer Polytechnic Institute with generous support from the United Health Foundation.